Press room
Connected Safety Car, the new service from Seguros Catalana Occidente to increase its customers' safety while driving
9/16/19 | Seguros Catalana Occidente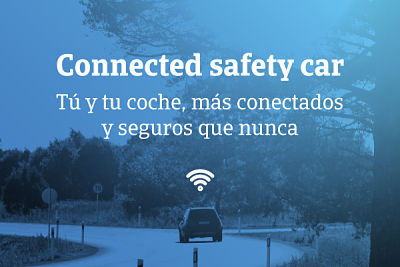 "The insurance company offers its customers a new data communication device in order to increase road safety and protection."
Seguros Catalana Occidente has launched a new service called Connected Safety Car, with which the company seeks to improve the safety and protection of users when travelling by car. Its key benefits include the automatic emergency service call (eCall) system when the vehicle is in a collision.
In general, the eCall system can significantly reduce the emergency services' response time, since it provides the exact location where the accident occurred, as well as additional information on the accident.
Furthermore, the geolocation of the vehicle can also have other advantages. Specifically, with the Car Finder function, the user will be able to view the location of their car through the Connected Safety Car app by Seguros Catalana Occidente (available for both iOS and Android). And in the event of theft, the vehicle can be tracked while the police are informed of events.
Additionally, using the app, the user can request travel assistance (bCall) so that an operator can contact them, resolve their queries on the road or call the tow service. In addition to all these benefits, the new Seguros Catalana Occidente device offers statistical information on driving style; a log of journeys made; the ability to delimit a traffic radius (geofence); receive traffic alerts or generate automatic speeding alerts.
The head of car insurance at Seguros Catalana Occidente, Rafael Moyano, stressed that "the safety of our customers is and has always been a top priority. With this new service, Seguros Catalana Occidente remains committed to protection, in addition to adapting to the new reality of connected vehicles, where new technologies play a fundamental role", stated the manager.
Signing up and installing
You can apply for this service through a mediator or at the nearest Seguros Catalana Occidente branch. Once signed up, the AutoPresto workshop network will contact the customer to install the device in the vehicle and access to the system will be provided through the app.
Contact for press and media
comunicacion@catalanaoccidente.com