1/2/19 | Fundación Jesús Serra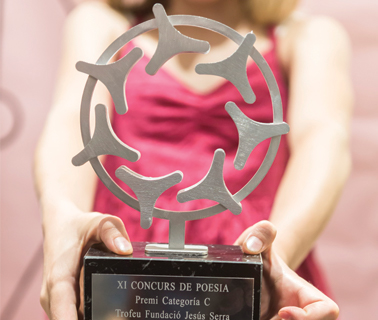 "Fundación Jesús Serra, of Grupo Catalana Occidente, has announced the XII edition of the Fundación Jesús Serra Poetry Contest in Spanish and Catalan, with the aim of boosting creation within this literary genre. In the eleven previous editions that have been held, a total of 11,000 poems were submitted by authors from more than 30 countries including Spain, Canada, Brazil, Colombia, Belgium, Croatia and Qatar."
The deadline for submitting poems is from January 2nd to April 30th, 2019 and must be done through the website www.poesiafjs.com. The contest is divided into three categories: "A," for participants from 18 years of age, "B," for authors between 14 and 17 years of age and "C," for contestants between 10 and 13 years of age. All three categories include a version in Spanish and another in Catalan.
The sum of the prizes will be €2,500 for the category "A", €1,500 for "B" and €800 for "C", applicable for each language in all three cases. Fundación Jesús Serra will invite the winners to participate in the "Voces Nuevas" cycle, organized with Asociación Colegial de Escritores de Cataluña (ACEC), which will serve as a stepping stone for new authors.
Poetry Contest Fundación Jesús Serra has a jury composed of prestigious writers and professionals from the world of culture, such as Josefa Contijoch (1981 Miquel Martí i Pol Poetry Prize, and 1994 Salvador Espriu Poetry Prize), Professor Ricardo Fernández Aguilá, the young talents Elena Medel (2001 Andalucía Joven Prize, 2016 Fundación Princesa Girona de Artes y Letras Prize) and Alejandro Krawietz, in addition to the inclusion this year of David Castillo Buïls (1997 Carles Riba Prize, 1999 Crexells Prize, 2001 Premi Sant Jordi), who will bring his experience and knowledge to this new edition.
The prizes will be decided during the second week of June and the presentation ceremony will take place on the 29th of that month in Barcelona. "It is important that we support culture in our society and this Contest helps to strengthen and protect creative poetry. Poetry is the best way to express emotions and Jesus Serra, the founder of Grupo Catalana Occidente, discovered this, during the most difficult moments of his life, becoming an unconditional lover of this literary genre," said Federico Halpern, President of Fundación Jesús Serra.
For Elena Medel, "the prizes are an excellent opportunity to discover new voices and to promote an art that is becoming more and more central in our society and among our youth. We must employ all the tools that help us to encourage those who want to be heard but have not yet found their opportunity." According to David Castillo, "actions like the Poetry Contest of Fundación Jesús Serra are projects in which you get involved because of conviction. It is important to support and assist these types of initiatives, which allow poetry to reach younger readers and writers in an attractive and interesting way."
All news posted on Twitter and Instagram can be found under the hashtag #PremioPoesíaFJS.
Contact for press and media
comunicacion@catalanaoccidente.com