Press room
Plus Ultra Insurance and the Professional Association of Insurance Brokers of Huesca strengthen their cooperation
4/16/18 | Plus Ultra Seguros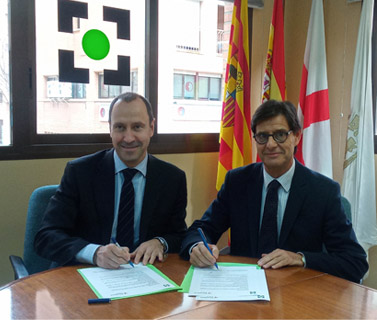 "The objective of new agreement is to promote the activity of the insurance sector, as well as to strengthen the role of brokers in the region."
Plus Ultra Insurance and the Professional Association of Insurance Brokers of Huesca have renewed their cooperation agreement with the aim of promoting the activity of the insurance business and, at the same time, consolidating brokerage as a commercial distribution model.
The agreement also represents a further stage in the relationship between the two institutions, as it will promote various initiatives aimed at association members. The signing ceremony, which took place in the association's headquarters, was attended by the chairman of the Professional Association of Insurance Brokers of Huesca, Antonio Mascaray, and the regional director of Plus Ultra Insurance for Catalonia-Aragon, Miguel Cortegano.
Mascaray emphasised that this agreement allows the reinforcement of the figure of insurance broker in Huesca through the support of an insurer such as a Plus Ultra Insurance "that is fully committed to brokerage as a distribution model, thanks to its proximity to and direct contact with the customer".
Cortegano also underlined the importance of brokers in offering a satisfactory customer experience. "At Plus Ultra we are very involved in the professional development and training of brokers to enable them to provide the best possible service", he emphasised.
Contact for press and media
comunicacion@catalanaoccidente.com