6/20/18 | Plus Ultra Seguros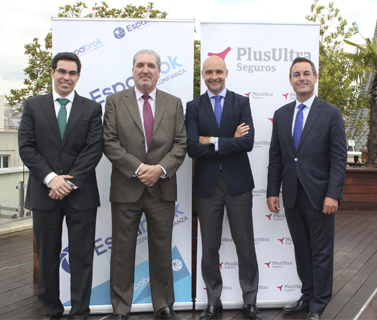 "The insurance company and the broker network have, for the eighth consecutive year, renewed the collaboration protocol that unites the two companies."
The agreement establishes the optimisation of business strategies for developing the business by marketing specific products designed by Plus Ultra Seguros for the clients of the Espabrok broker network.
The agreement was renewed at Plus Ultra Seguros central offices, in an event including the Espabrok Chairman, Silvino Abella, and its Managing Director, Luis López Visús. The insurance company was represented by its General Commercial Director, Luis Vallejo, and the Management and Commercial Control Director, Javier Montoya.
Abella highlighted the fact that it is important for Espabrok to offer its broker network products that are adapted and which stand out. In addition, because the brokers have a valuable offer backed by Plus Ultra Seguros this is, in his opinion, "a seal of guarantee for Espabrok and, in turn, for our customers."
Vallejo stressed that this agreement reflects the good track record and commitment of Plus Ultra Seguros to Espabrok. Following on from this, the General Commercial Director of the insurer emphasised the capacity of Plus Ultra Seguros to provide Espabrok with "uniform development of specific products and to offer the best insurance solutions". "We wish to consolidate our professional relationship with Espabrok with the aim of generating synergies that allow both organisations to mutually evolve", he added.
The agreement also includes specific training sessions given by Plus Ultra Seguros on the adapted products, to pass on full knowledge of the insurance solutions and enable a quality service to be offered to the clients.
Contact for press and media
comunicacion@catalanaoccidente.com