Press room
Plus Ultra Seguros and the Professional Association of Insurance Mediators of Castellón consolidate their commitment towards insurance mediation
5/7/19 | Plus Ultra Seguros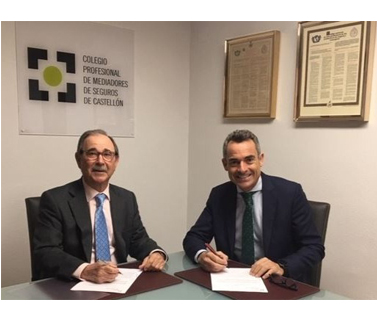 "This renewal of the agreement establishes a 10-year collaboration between both entities in promoting and fostering the mediation channel in the province."
Plus Ultra Seguros and the Professional Association of Insurance Mediators of Castellón have renewed their collaboration agreement, which dates back to the year 2009, with the aim of continuing to encourage actions that promote mediation and activities that improve the professionalisation and knowledge of the professionals in the province.
To this effect, both entities have agreed that Plus Ultra Seguros will support the training events carried out by the Professional Association and, jointly, promote the role of mediators by organising conferences and seminars related to mediation and the new trends in the insurance sector.
The Levante territorial director, Julio Pérez, and the manager of the Castellón branch, Mónica Gimeno, from Plus Ultra Seguros participated in the renewal of the agreement, which took place at the headquarters of the Professional Association of Insurance Mediators of Castellón. The Professional Association's chairman, Antonio Fabregat, and its secretary, Fernando Solsona, also took part.
Pérez emphasised that "this agreement is one step further made by Plus Ultra Seguros in its intention to consolidate its commitment towards the mediation channel and the role of mediators, which are the pivotal element in the development of our business model and a crucial group in developing the insurance sector."
Furthermore, Fabregat thanked Plus Ultra Seguros' firm support "to mediation and, in particular, its commitment towards the mediators of Castellón", with whom it will collaborate one more year in carrying out activities that promote professionalisation in this group.
Contact for press and media
comunicacion@catalanaoccidente.com