Press room
Plus Ultra Seguros and the Professional Association of Insurance Mediators of Jaén extend their partnership
4/29/19 | Plus Ultra Seguros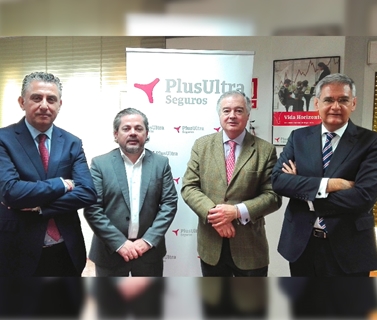 "The companies extend their agreement for another year and will jointly carry out training and information activities to benefit mediators."
Plus Ultra Seguros and the Professional Association of Insurance Mediators of Jaén have renewed their partnership agreement In this regard, both companies will continue with their work to promote mediation and will promote actions and activities that allow mediators in the province to increase their knowledge and, in this way, improve the services they offer to their customers.
As well as these initiatives, the insurance company will collaborate with the Professional Association of Jaén through conferences, workshops and seminars. All these activities aim to provide the members with training and information activities that allow them to adapt to the new trends in the sector.
The signing of the renewed agreement took place in the Plus Ultra Seguros branch in the city of Jaén, where the Director of the Plus Ultra Seguros agencies in the south of Spain, José María López, was present; the Plus Ultra Seguros Regional Director of Mediators in eastern Andalusia and Murcia, Alberto Bartolomé; the President of the Professional Association of Insurance Mediators of Jaén, Javier García, and the Secretary of the Professional Association of Insurance Mediators of Jaén, Antonio Fuentes.

During the proceedings, the directors of both companies emphasised the importance of providing mediators with new knowledge and better tools to enable them to develop and increase their activity. Following on from this, López highlighted the importance of this group for Plus Ultra Seguros "an insurer that is absolutely committed to mediation as a fundamental pillar in its business model".
Furthermore, Garcia emphasised the renewal of the agreement with Plus Ultra Seguros as one of the ways to give its members a high quality service that improves their skills, knowledge and abilities, with the aim of improving their professional qualities and offer a better service to customers".
Contact for press and media
comunicacion@catalanaoccidente.com