Press room
Plus Ultra Seguros awards MINI vehicles to its agents with the collaboration of Alphabet and MINI España
12/11/18 | Plus Ultra Seguros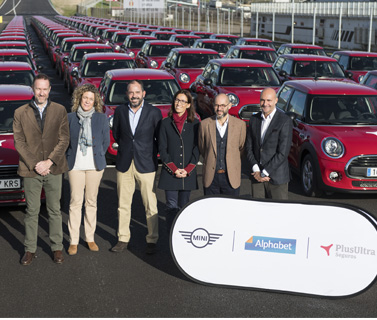 "The insurance company gathers its agents at an event held in the Circuit of Jarama in Madrid."
On 5 December, Plus Ultra Seguros brought together its network of agents to award them new MINI brand vehicles. Thanks to a collaboration agreement with MINI España and Alphabet, the insurance company has confirmed its clear commitment to empowering its agents and providing them with the best tools to carry out their day-to-day work.
The ceremony for presenting the corporate vehicles was held at the Circuit of Jarama in Madrid and was attended by the Deputy Managing Director for Sales, Luis Vallejo, and the Director of Network Branches, Institutions and Marketing, Pablo Sampedro, both from Plus Ultra Seguros; as well as the director of MINI España, Juan Pablo Madrigal, and the Director of Sales and Marketing at Alphabet España, Alicia Gálvez.
During his presentation, Vallejo emphasised that awarding these corporate vehicles strengthens the commitment of Plus Ultra Seguros to its agents, "who are the foundation of the development of the company's business model and the best profile for advising customers closely and professionally". "What's more, by awarding these vehicles, Plus Ultra Seguros makes work easier for its agents by delivering them an iconic vehicle within the automotive industry that improves their mobility both in urban settings and on the motorway", added Vallejo.
For his part, Madrigal stated that "selecting MINI for the Plus Ultra Seguros fleet demonstrates a firm decision on the part of the insurer to identify with the values of innovation, dynamism, freshness and modernity, all of which are characteristic of our brand, and which are sure to add additional motivation to its network of commercial agents".
Gálvez said "we are delighted to have been selected by Plus Ultra Seguros to take on this new collaboration, including the largest presentation ceremony of MINI vehicles made with a client in this year. Plus Ultra Seguros and the MINI fleet are a clear representation of the commitment for attaining differentiation in corporate mobility. At Alphabet, we know that a fleet of this calibre requires top-quality service with a high level of attention to detail, which are key requirements of our value proposition that will be always present in the mobility solutions of Plus Ultra Seguros".
Throughout the event, specialists from MINI España and Alphabet solved technical enquiries from Plus Ultra Seguros agents, explaining the characteristics of the vehicle and also sharing some basic mechanical concepts related to the car.
Contact for press and media
comunicacion@catalanaoccidente.com