3/19/18 | Plus Ultra Seguros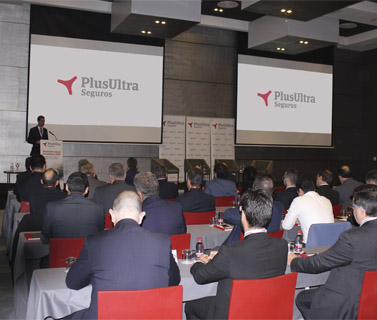 "The company presented its objectives and its commercial strategy for 2018, as well as the main developments in its products and services, to its mediator network."
During the months of January and February, Plus Ultra Seguros brought together nearly 700 professionals from its mediator network through a series of event days held in Madrid, Barcelona, Bilbao, Santiago de Compostela, Valencia, Seville and Málaga. At these events, the insurance company set out its business strategy, as well as presenting its range of new products that will be released this year.
All of the event days were attended by the Plus Ultra Seguros CEO, David Capdevila, who explained to attendees how the company had performed in 2017. Also in attendance were the assistant managing director of sales and marketing, Luis Vallejo, and the assistant managing director of general insurance, Julián Herrera, who set out the company's business development projects and plans for the current year.
The goal of holding these gatherings in different locations was to provide the sales network with a first-hand understanding of the company's results, challenges and objectives, as well as to learn about mediators' needs and the situations they face in their day to day operations. As a result, proximity between the company and attendees played a key role in these events through various spaces dedicated to encouraging dialogue. "For Plus Ultra Seguros, it is very important to listen to its sales network and to respond to its needs, since this service channel is the cornerstone on which our distribution model is based", highlighted Capdevila.
Contact for press and media
comunicacion@catalanaoccidente.com