1/18/18 | Plus Ultra Seguros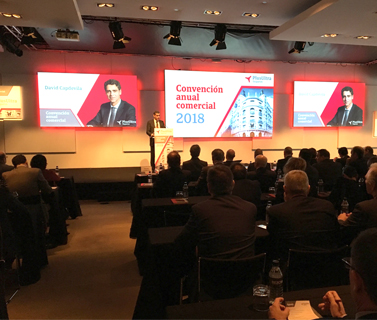 "The company evaluated its business performance in 2017 and presented its aims, strategic lines, and new projects for the new fiscal year."
Plus Ultra Seguros held its annual convention in Pozuelo de Alarcón (Madrid), which was attended by some hundred managers and directors of the company to present the business roadmap for 2018.
The opening session was given by the CEO, David Capdevila, who analysed the results and activity of 2017, a year in which he assumed operational responsibility of the insurance company. In this respect, Capdevila emphasised the positive performance of Plus Ultra Seguros over the past fiscal year, in terms of fulfilling its growth, profitability and solvency strategy.
Over the course of the meeting, Luis Vallejo, Assistant Managing Director of Business, presented the main business initiatives to be implemented. After his intervention, different managers of brokerage channels and agency networks presented their respective development and marketing plans for the current fiscal year.
Next, the remaining members of the board of directors presented all the news and developments related to technical management, both for life insurance and general insurance; control projects and business management; operations strategy, and the main projects related to human resources, among others.
The managing director of Grupo Catalana Occidente, Ignacio Álvarez, closed the convention by providing a general review of the results of 2017 and a statement of objectives for this year.
Contact for press and media
comunicacion@catalanaoccidente.com