Press room
Plus Ultra Seguros reinforces its commitment to paddle tennis and sponsors the doubles team Mati Díaz and Franco Stupaczuk
3/19/19 | Plus Ultra Seguros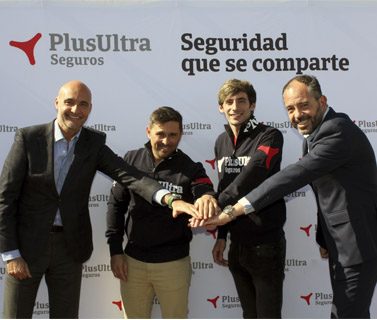 "The insurance company continues its commitment to the sport and supports the new doubles team as they participate in the World Padel Tour (WPT)."
Plus Ultra Seguros has reached an agreement to become the official sponsor of the new doubles team, Mati Díaz and Franco Stupaczuk, at the World Padel Tour (WPT). With this sponsorship, the company supports a sport that is known for upholding values such as effort, perseverance and improvement.
As a result of this commitment, the doubles team will wear the Plus Ultra Seguros logo on their t-shirts and shorts. The company will offer its support as the team endeavours to increase their ranking in the WPT and improve on the results achieved in recent years.
The agreement was signed at the insurance company's head offices in Madrid, with the paddle tennis doubles team, in the presence of Luis Vallejo, the general sales manager of Plus Ultra Seguros and Pablo Sampedro, the marketing director. "The sponsorship of the doubles team, Mati Díaz and Franco Stupaczuk, reinforces our commitment to sport and paddle tennis in particular. In addition, the dedication, effort and sacrifice shown by the doubles team in each play, not giving up on any ball, is a true reflection of how Plus Ultra Seguros operates", said Vallejo.
Similarly, both Mati Díaz and Franco Stupaczuk thanked the company for its support in the new season of the WPT and stressed the importance of large companies, such as Plus Ultra Seguros, in backing the sport.
Brokers' paddle tennis tournament
As well as sponsorship, the agreement also includes the doubles team participating in the brokers' paddle tennis tournament that Plus Ultra Seguros organises each year. In the tournament's last edition, held in 2018, a total of 340 brokers competed in 7 different stages that took place in Valencia, Barcelona, A Coruña, Madrid, Bilbao, Malaga and Seville, with the grand final taking place in Madrid.
As well as promoting the practice of sport, the aim of this competition is to strengthen the commitment and close relationship Plus Ultra Seguros has with brokers.
Contact for press and media
comunicacion@catalanaoccidente.com