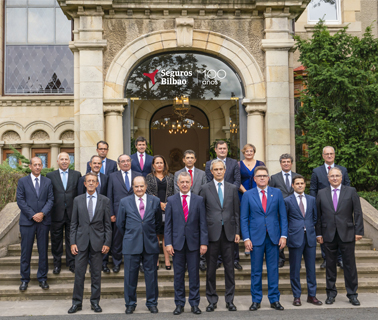 "On 5 September the insurer celebrated the 100th anniversary of its founding, which originated from the enterprising spirit of three entrepreneurs who knew how to maximise a business opportunity insuring the maritime sector and transport sector."
Last Friday Seguros Bilbao gathered over 600 employees, former workers and intermediaries at an event to commemorate the insurer's centenary. The celebration, which took place in the company's headquarters - the residence Los Rosales in Neguri, Getxo (Biscay) - included local authorities and management of Seguros Bilbao and Grupo Catalana Occidente.

The different acts included the opening of a book of dedications and the sponsoring of a tree, in the presence of the Lehendakari of the Basque Government, Iñigo Urkullu. In addition, attendees enjoyed a stage performance in which 100 years of Seguros Bilbao were recapped through the main milestones in its history.

During the celebration, the CEO of Grupo Catalana Occidente, Ignacio Álvarez, highlighted that the key to Seguros Bilbao having fulfilled 100 years was "its capacity to be flexible, which has allowed it to adapt to the new needs of its customers and the market". He also underlined the company's capacity to innovate "As a differentiating factor when it comes to adapting to a changing environment".

The director also had words of gratitude for past and present employees and collaborators of Seguros Bilbao. "This centenary would not have been possible without the contribution of the human team that has always been so characteristic of Seguros Bilbao. Our work is to protect and advise people and companies on how they need to cover their risks and to do this it is necessary to innovate and rely on the right people," Álvarez declared.

Additionally, the President of Grupo Catalana Occidente, José María Serra, praised the work done by Seguros Bilbao staff over these last 100 years and recalled one of the key moments in the history of the company, its integration into the Group. "Forming part of Grupo Catalana Occidente has allowed Seguros Bilbao to consolidate its firm position as an insurance leader in terms of risk protection and long-term coverage for families and small and medium-sized enterprises, " he emphasised.

At the same time, he stressed the positive contribution of Seguros Bilbao to Grupo Catalana Occidente by contributing a growth model based on "Efficient and profitable risk management; a network of intermediaries that offer professional and close services to our customers, and which has been a fundamental pillar in the company's growth, and excellent customer service, with extremely high rates of satisfaction and recommendation".
Contact for press and media
comunicacion@catalanaoccidente.com