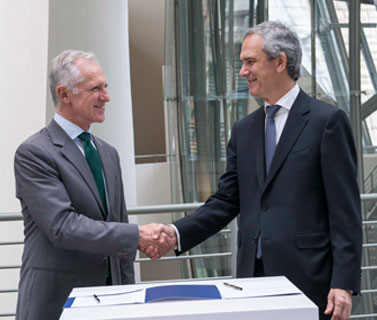 "In a year when the Guggenheim Museum is celebrating its 20th anniversary, Seguros Bilbao and the Jesús Serra Foundation, both members of Grupo Catalana Occidente, have signed a 5-year renewal of their sponsorship agreement with the museum."
The new collaboration agreement was signed today at the Guggenheim Museum Bilbao, with participants including Ignacio Álvarez, CEO of Grupo Catalana Occidente; José Manuel Ereño, Assistant Director General of Seguros Bilbao; and Juan Ignacio Vidarte, Director General of the Guggenheim Museum Bilbao.
This agreement will include a contribution of nearly €500,000, which will be dedicated to strengthening cultural activities at the museum, and it will extend the collaboration agreement previously established between the Guggenheim Museum Bilbao and Seguros Bilbao to cover the next 5 years. The link between these two entities goes all the way back to the museum's inauguration, which means that this year will represent two decades of fruitful collaboration on a wide variety of activities and projects. Highlights among these include sponsorship of important temporary exhibitions such as those by Yoko Ono, Murakami and 100% Africa, as well as some very successful public events such as the Carnaval celebrations in 2011 and 2012.
Renewal of the sponsorship agreement further reinforces the close relationship established between Seguros Bilbao, which became a part of Grupo Catalana Occidente in 2004, and the Guggenheim Museum Bilbao. This linkage is now being channelled through the Jesús Serra Foundation, another member of the cited business group.
In the words of Ignacio Álvarez, CEO of Grupo Catalana Occidente, "our long-term sponsorship relationship with the museum, which is a world leader in contemporary art at the international level, demonstrates our commitment to the institution and the values it represents. The renewal of the agreement that we are signing today reflects these intentions".
Contact for press and media
comunicacion@catalanaoccidente.com