Press room
Seguros Bilbao renews its sponsorship with Bilbao Basket for the sixth consecutive season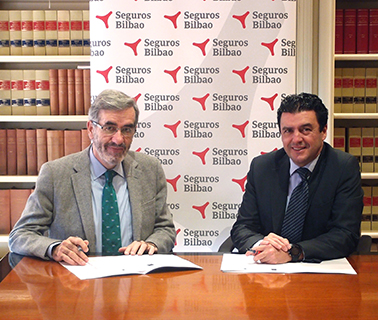 "The insurance firm reasserts its commitment to basketball as it is one of the club's main sponsors in the LEB Oro league. Seguros Bilbao will also support the club's grassroots sport by driving the young talent campus."
Seguros Bilbao has reasserted its commitment to Bilbao Basket by becoming the club's sponsor for the sixth consecutive season. The collaboration between both institutions dates back to the 2012 season when Seguros Bilbao became one of the club's main sponsors for the first time.

This agreement means that the firm's logo will be visible in different media, as well as in the stadium where the club plays its local games and on the team's website. Furthermore, for yet another year Seguros Bilbao will support the campuses organised by Bilbao Basket to promote basketball among the littlest ones.

The agreement was signed at the Seguros Bilbao headquarters in a meeting attended by the CEO of Bilbao Basket, Javier Barcala and the Seguros Bilbao Marketing Manager, Iñigo Garay.

Garay stated that this agreement's renewal is "a clear example of Seguros Bilbao's commitment to the world of sport", but it also highlights the firm's support for initiatives "that contribute to the development of Biscay and its citizens". Furthermore, Barcala showed his appreciation to the insurance firm for its support throughout these years and most especially, this season, as the club is in a new division: LEB Oro.
Contact for press and media
comunicacion@catalanaoccidente.com