Press room
Seguros Catalana Occidente focuses its 2019 business strategy on strengthening growth and improving the customer experience
3/4/19 | Seguros Catalana Occidente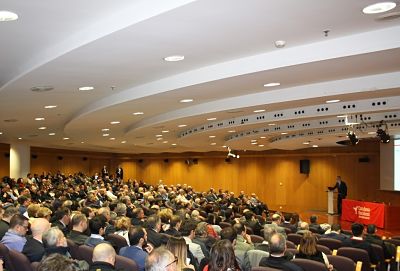 "More than 1,500 mediators attended the insurer's business workshops."
Seguros Catalana Occidente held 12 events across the country throughout January and February, with its business network of brokers coming together to hear about the insurer's progress in 2018 and its business strategy for the current year.
In the sessions, Juan Closa, CEO of Seguros Catalana Occidente, described 2018 as a particularly positive year for business activities, highlighting growth across all lines of the business. From his perspective, this growth must not be focused solely on attracting new customers, but "should also look at promoting activities to maintain customer loyalty, always offering a quality service".
Looking ahead to this year, Closa emphasised how Seguros Catalana Occidente will continue to drive mediators' activities, leading to growth both in terms of agent numbers and productivity. He also explained how the insurance company will continue to develop initiatives aimed at improving the customer experience to ensure mediators can offer an outstanding service, "all of which will allow us to place value on the competitive advantages our mediation-based distribution model brings" he said.
Promote the e-Customer platform
The Seguros Catalana Occidente CEO also highlighted the importance of improving and providing relevant information to customers via their chosen channel at all times. In this vein, Closa talked about the development and improvement of the e-Customer platform, a tool for customers to access and manage their insurance online.
Among the many new features added to the platform are facilities to: declare and check the status of car accident claims; check on home insurance-related claims; and calculate pensions or savings obtained with contributions.
Over the course of the events, heads of various branches of the business also discussed new products and services that will be launched in 2019 and, as in recent years, how they will also put a spotlight on key themes such as prevention vs protection, always offering customers value-added services. Some recent examples of these are: free vehicle check-ups and cyber risk insurance for companies.
Contact for press and media
comunicacion@catalanaoccidente.com