Press room
Seguros Catalana Occidente insurance company reiterates its commitment to sustainable transport in Expoelectric 2017
11/8/17 | Seguros Catalana Occidente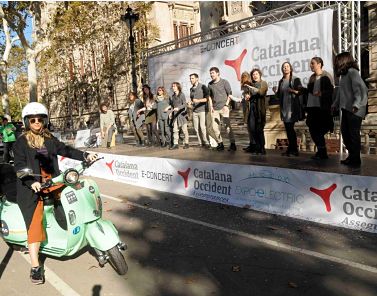 "Seguros Catalana Occidente will be taking part in the 7th Expoelectric exhibition, one of the largest electric vehicle events in southern Europe, which will take place on 11-12 November next to the Arc de Triomf in Barcelona. The company thereby reinforces its commitment to this type of vehicle as an alternative for urban mobility and energy efficiency."
With this initiative, Seguros Catalana Occidente is once again looking to create awareness on the importance of energy saving through the use of urban and inter-urban transport modes that produce the least amount of pollution possible and to promote efficient and civic driving. In this regard, the company confirms that citizens are becoming increasingly interested in electric cars due to the 50% rise in insurance policies for electric cars in the past year.
Everybody who visits the Seguros Catalana Occidente stand in the exhibition will be able to participate in a prize draw for an electric scooter and receive first-hand knowledge about the exclusive insurance policy for electric cars from the insurer. Included among the main guarantees of this insurance is technical assistance on the road, specialised in breakdowns such as battery failure and assistance in the event of punctured tyres. Our youngest visitors can enjoy a Scalextric racing circuit.
In addition, Expoelectric offers various information talks about the sector's new features, and the chance to learn about and try out all types of electric vehicles on its covered special test circuit for electric motorcycles and bicycles and its open-air track for testing cars in traffic.
On Sunday, the attendees can also enjoy the e-Concert performed by the vocal group "In Crescendo" on a stage surrounded by electric vehicles. The aim of this recital, for which Seguros Catalana Occidente is a principal sponsor, is for the public to experience the improvement in the environmental conditions of an 100% electric city, with considerably less noise so that it is even possible to listen to a concert on a busy street.
Contact for press and media
comunicacion@catalanaoccidente.com