Press room
Seguros Catalana Occidente is to be the official sponsor of BC Morabarc Andorra for the 2019-2020 season
5/30/19 | Seguros Catalana Occidente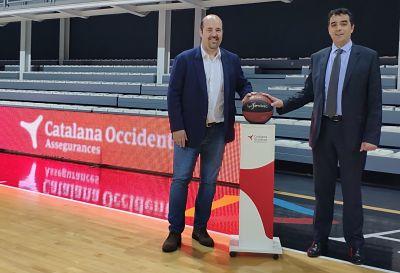 "The insurance company reaffirms its commitment to basketball by renewing, for the fourth consecutive season, its sponsorship agreement with BC MoraBanc Andorra."
For the fourth consecutive year Seguros Catalana Occidente has renewed its agreement with BC MoraBanc Andorra, making the insurance company the club's official sponsor for the 2019-2020 season.
The agreement was approved at the insurer's Andorra branch, in an act attended by the President of Bàsquet Club MoraBanc Andorra, Gorka Aixàs, and Eduard Fillet, director of the Andorra branch of Seguros Catalana Occidente.
Aixàs highlighted Seguros Catalana Occidente's desire to promote the sport and the teamwork involved in its support of the Andorran club once again. For his part, Fillet expressed his delight at being able to contribute to the success of BC Morabanc Andorra next season and stressed that Seguros Catalana Occidente's sponsorship "confirms the company's involvement and commitment to the club in recent years".
The logo of Seguros Catalana Occidente will remain on the players' training t-shirts next season and will also be visible in the Poliesportiu d'Andorra pavilion, the team's home ground.
Furthermore, as part of the renewal of the agreement, the insurance company is expected to be present on the Twitter and Instagram profiles of the @morabancandorra team through the "La asistencia segura" (assistance assured) campaign, a video featuring the highlights of each game.
After finishing this season in tenth position in the regular league, BC Morabanc Andorra is already preparing for the forthcoming season (2019-2020), the sixth consecutive season among the national basketball elite, which establishes its consolidation in the ABC league.
The Andorran club's most outstanding feats include its participation in the last two editions both in the final playoff as well as in European competitions (the club reached the semifinals in the Eurocup). Another highlight from last season was its victory in the Copa Catalana.
Contact for press and media
comunicacion@catalanaoccidente.com