3/13/19 | Seguros Catalana Occidente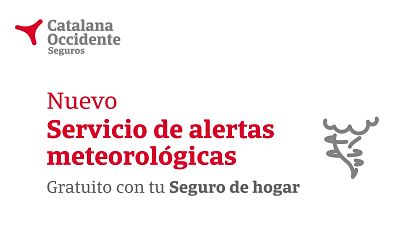 "The company wants to enhance its customers' protection against adverse weather situations."
Seguros Catalana Occidente has started operating a new free meteorological warning service for customers that have taken out home insurance for their habitual residence. The aim of this new service is to warn and inform customers when a major (orange alert) or extreme (red alert) meteorological event has been forecast in the town/city where they have their insured home.
The customer will receive an email with the details of the meteorological warning, which will specify the type of phenomenon forecast, the alert level, the percentage of probability of it occurring and the start and end dates thereof. The data used for the weather forecasts are obtained from the State Meteorological Agency (AEMET).
Seguros Catalana Occidente's communication will also include the main recommendations that the Spanish Civil Defence usually provides citizens in view of these phenomena. Therefore, with all this information, the insurer's customers will be able to mitigate the risks and avoid the danger as far as possible. In addition, they will also obtain direct access from where to follow the evolution of weather forecasts. In cases classified as red alert, the insurer will enable an additional warning service via SMS.
Furthermore, Seguros Catalana Occidente has specific internal protocols to be able to swiftly react, mobilise and assist customers that can be affected by severe meteorological events. Last year, the AEMET warned about 12 severe depressions in Spain.
Contact for press and media
comunicacion@catalanaoccidente.com