Press room
Seguros Catalana Occidente supports the training and the talent of the IQS School of Management
9/27/18 | Seguros Catalana Occidente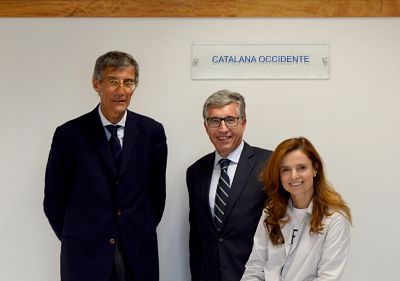 "The insurance company sponsors a classroom of the IQS School of Management, which will be named after the company."
Seguros Catalana Occidente has signed a sponsorship agreement with the IQS School of Management to promote training and talent in studies at Degree, Masters and Postgraduate level in Administration and Business Management of the Institut Quimic de Sarria [Chemical Institute of Sarria] (IQS) over the next three years.
The signing of the agreement, which took place in the Catalana Occidente Classroom of the IQS School of Management, was attended by the Managing Director of IQS, Dr Pere Regull; the person in charge of Institutional Relations of the IQS and Rosa Curt from the IQS Business Foundation, and the Barcelona regional director of Seguros Catalana Occidente, Marc Martínez.
Martínez indicated that engaging with the younger generations provides Seguros Catalana Occidente with "an opportunity to innovate and, at the same time, a challenge that should help us to improve as an organisation". Accordingly, he stated that a company can be successful "if it is able to achieve the emergence of the talent of the people who form part of it. For this reason, it is important that companies establish optimum conditions for the development of talent", the person in charge explained.
Furthermore, Regull acknowledged the support of Seguros Catalana Occidente in the training of young people, as, in his opinion, the commitment to talent management is "the best guarantee of a future for any company".
Seguros Catalana Occidente and the IQS initiated their collaboration in 2015 when the insurance company supported the activities of its new laboratory for the Biotechnology Degree and the Pharmacy Degree courses, and the celebration of the 25th anniversary of the IQS School of Management. The IQS aims to train people in different university, scientific and management degrees.
Contact for press and media
comunicacion@catalanaoccidente.com