Press room
Seguros Catalana Occidente supports the White Summer festival by sponsoring several concerts
7/29/19 | Seguros Catalana Occidente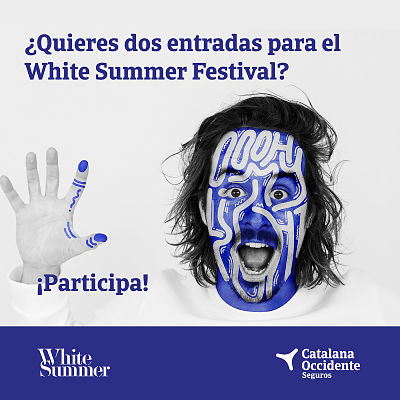 "The company collaborates in the latest edition of the festival in Girona with the exclusive sponsorship of the Pavvla, Viva Suecia and Cupido concerts, which will take place on 8, 20 and 23 August, respectively."
Seguros Catalana Occidente sponsors the White Summer festival for the second year in a row, which will be held from 3 to 25 August in the town of Pals in Girona. In this way, the insurance company reinforces its commitment to promoting culture by supporting this event, which stands out for bringing together the latest trends in performing arts, music, design and gastronomy.
In this edition, Seguros Catalana Occidente will exclusively sponsor the concerts Pavvla (8 August), Viva Suecia (20 August) and Cupido (23 August). In addition, each week the company will draw tickets to these White Summer concerts via the Facebook page of Seguros Catalana Occidente.
White Summer, more than a music festival
The unique festival of White Summer Pals (3 to 25 August) celebrates its eighth edition this year, having established itself as a key summer meeting point on the Costa Brava. The event will be a party with "good vibes" over 23 days in August and combines music, art, culture and creativity with a programme of more than 200 activities full of surprising new activities, performances and first-rate music. To the cry of Oh My Light, Oh My Night! , the festival presents two complementary settings this summer: White Summer by day and White Summer at night.
Contact for press and media
comunicacion@catalanaoccidente.com