2/13/20 | Plus Ultra Seguros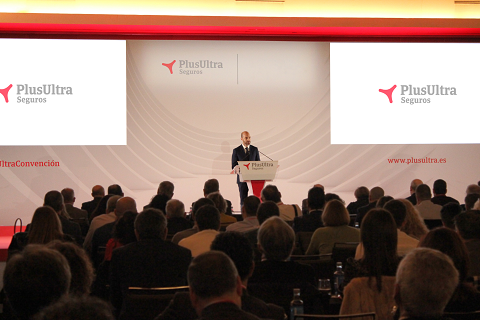 "In its recent sales conferences, the insurance company presented the highlights of 2019 and explained to the almost 600 attendees the main strategies for this year."
Plus Ultra Seguros held its sales conferences with the aim of passing on the most important achievements of 2019, as well as the company's roadmap for this year to its mediators. Nearly 600 exclusive agents and brokers attended the events in Madrid.
The new Managing Director of Plus Ultra Seguros, Julián Herrera, reflected on the insurance company's activity over the past year and highlighted the main strategies for 2020. In this regard, Herrera stressed that for this year the sales work of the mediators network will continue to be encouraged, "a fundamental pillar in the company's development and a group that allows us to offer personalized solutions to customers in a close and professional way."
He also added that progress in connectivity processes and in individualizing the offer for the meditators network will be other important aspects to be implemented this year. These measures will undoubtedly "boost the sales activity of Plus Ultra Seguros and improve our ability to offer customers the product that best suits their needs."
Meanwhile, the company's Managing Sales Director, Luis Vallejo, emphasized that it is key for the insurance company to continue supporting digitization as the best tool to simplify contracting processes. He also highlighted Plus Ultra Seguros' commitment to training mediators, "a key factor that will positively influence the service we offer our customers."
Product renewal
The Director of Management and Commercial Control at Plus Ultra Seguros, Javier Montoya, offered the different initiatives that the insurance company will carry out this year in car, personal, company and life insurance. Montoya also highlighted that in 2020 several products will be renewed aimed at individuals and companies.
While the Director of the Agency Network, Institutions and Marketing, Pablo Sampedro, highlighted all the actions carried out with the mediators and presented the main initiatives that will be developed in the area of marketing and business objectives for 2020.

These conferences are a key event for the insurance company, as through them the directors and managers of Plus Ultra Seguros have the opportunity to strengthen ties with the mediators. All of this with the aim of developing those aspects that can help this group to promote its sales work throughout the year.
Contact for press and media
comunicacion@catalanaoccidente.com