2/25/19 | Plus Ultra Seguros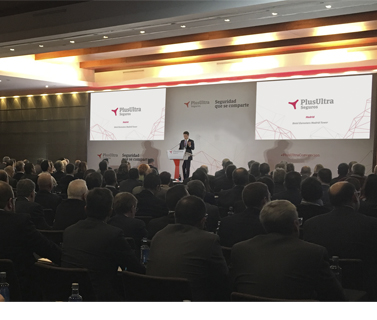 "The insurer celebrated its commercial meeting with the aim of passing on the most striking aspects of 2018 and this year's strategy to its network."
Plus Ultra Seguros held its commercial conference in Madrid, directed at its mediator network. In total, more than 500 professionals shared their experiences, and got to know first-hand the landmarks reached in 2018 as well as the main new features of the company for this year.
The chief executive officer of Plus Ultra Seguros, David Capdevila, analysed the most significant aspects of 2018, among which he emphasised the company's excellent growth rate. In addition, the CEO laid out the commercial objectives and challenges for 2019, indicating that the key will be the strengthening of the role of the mediator "as an essential figure for the company, who provides clients a professional, specialised, and personal service".
In addition, the deputy general manager of sales at Plus Ultra Seguros, Luis Vallejo, highlighted the importance of proximity to the mediation network, stating that this is "a cornerstone of our commercial distribution model that allows us to offer insurance solutions adapted to each client".
The new features the company will launch in 2019 were also set out and, at the same time, the main initiatives in terms of connectivity to be implemented throughout this year were presented.
The insurance company's commitment to differential training was also underlined, by remembering that last year Plus Ultra Seguros carried out more than 3,600 hours of training on the company's products and services, processes, and tools, with the aim of promoting mediator development.
This conference is one of the most important events of the year for Plus Ultra Seguros, as it allows the company to strengthen ties with its network of mediators by listening to their experiences, needs, and concerns.
Contact for press and media
comunicacion@catalanaoccidente.com