1/9/18 | Fundación Jesús Serra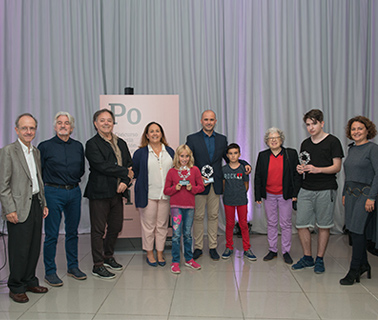 "Fundación Jesús Serra has organized the XI Edition of the Poetry Contest Fundación Jesús Serra in Spanish and Catalan, whose aim is to promote creation in this literary genre. In the previous ten editions, about 1,000 poems were presented from authors from more than 20 different nationalities."
Poems may be presented from January 2 until March 31, 2018, and must be presented via the web at www.poesiafjs.com. The contest is divided into three categories: A, for participants over the age of 18; B, for authors between 14 and 17 years old; and C, for competitors of ages ranging from 10 to 13. All three categories will include a modality in Spanish and another in Catalan. A prize of €2,500 will be awarded in category A, €1,500 in B, and €800 in C, in each of the category's languages.

The judges of the Contest consist of, as with other years, prestigious writers and professionals in the world of culture, such as Josefa Contijoch (1981 Miquel Martí i Pol Poetry Prize and 1994 Salvador Espriu Poetry Prize), Dante Bertini (1993 La Sonrisa Vertical Prize), and Prof. Ricardo Fernández Aguilá, who are joined for this edition by the talented young Elena Medel (2006 Andalucía Joven Prize, 2016 Fundación Princesa de Girona de Artes y Letras Prize) and Alejandro Krawietz.

Prizes will be determined during the second week of the month of June and the award ceremony will take place on the 28th of said month in Barcelona.

Federico Halpern, President of Fundación Jesús Serra, highlights that among the objectives of the contest is "to preserve poetic creation as a way of promoting culture in our current society, appreciating beauty and helping us to verbalize emotions, as was done by Jesús Serra, founder of Grupo Catalana Occidente, in the most difficult times of his life since, aside from being a businessman, he was also an unconditional lover of this literary genre".

Elena Medel, who began writing at age 16, understands that, "the prizes awarded to unpublished works exist in order to discover an author, to rescue the author who has not yet made the impact that he or she deserves or to facilitate publishing the work of an author without a regular publisher." For his part, Josefa Contijoch, who also remembers beginning to write at a very young age, encourages "anyone who has even a shred of interest in art or creation, because more than reaching the summit, one must value the personal satisfaction that one feels, surrendering their body and soul to something as sublime as the foolish attempt to leave a new human message in a bottle thrown into the sea so that, as poet Paul Celan said, someone, on the other shore, may find it.
Contact for press and media
comunicacion@catalanaoccidente.com