Press room
Plus Ultra Insurance renews its collaboration agreement with the Professional Association of Insurance Mediators of Valencia
5/23/19 | Plus Ultra Seguros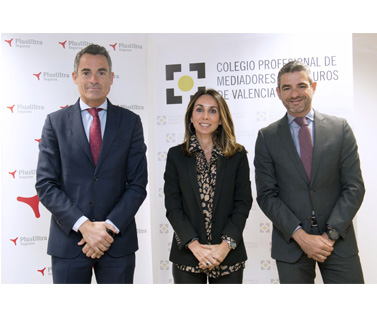 "The two companies have been collaborating together for the last 10 years, organising activities to improve training and the professional development of the mediators in the province."
Plus Ultra Seguros and the Professional Association of Insurance Brokers of Valencia have renewed their collaboration agreement with the aim of promoting actions and initiatives that encourage the professional development of mediators in the province. In this way, the two companies extend a collaboration that began in 2009 for yet another year, and strengthen their mutual commitment to improving professional brokerage.
The signing of the renewal agreement took place at the facilities of the south-east region mediators of Plus Ultra Seguros and was attended by its director, Julio Pérez, the president of the College of Insurance Mediators of Valencia, Mónica Herrera, and the Commercial Development Director of the south-east region of Plus Ultra Seguros, Álvaro Soriano. During the act, the managers of the two institutions highlighted the strong link between the companies, and the fact this benefits all the registered mediators in the Valencia province.
For Pérez, the renewal of this agreement shows "Plus Ultra's firm commitment to mediation" and consolidates its commitment to the professional insurance mediator "as the main figure in the distribution of products and services within the insurance sector".
In addition, Herrera thanked Plus Ultra Seguros for its commitment and noted that thanks to this agreement the Association is assured of "important support in the training of mediators in the province through offering a higher quality service with activities and events that promote the professionalisation of this group."
Contact for press and media
comunicacion@catalanaoccidente.com