Press room
Plus Ultra Seguros, acknowledged by Asoccex as the best insurance company for its support for brokers from Extremadura
12/11/19 | Plus Ultra Seguros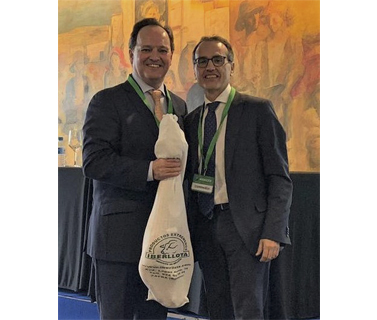 "With the award granted by the Extremadura Brokers Association (Asoccex), the insurance company ratifies its commitment to brokerage and the activity of the brokers from Extremadura."
Plus Ultra Seguros has been granted the "Jamón Award" by the Extremadura Brokers Association (Asoccex) for the sixth consecutive year. The award seeks to acknowledge the service, attention and personalised care that the insurance company provides to brokers in the region.
The chairman of Asoccex, Juan María Pozas, was responsible for granting the award to the regional head of Plus Ultra Seguros Centro Sur Corredores, David Gil. The head of Andalusia West and Extremadura for Plus Ultra Seguros, Arturo Viedma, the head of the Badajoz office, Marta Samperio and the head of the Cáceres office, Antonio Hernández, were also present.
Gil thanked Asoccex for its acknowledgement, and highlighted the company's value proposition for the group of brokers in Extremadura, "a relationship based on values such as trust, honesty, responsibility and personal care, qualities that, in short, enable Asoccex to offer its customers a better service".
Pozas also stated that this award "ratifies the important work undertaken for several years by Plus Ultra Seguros to benefit brokers from Extremadura".
Contact for press and media
comunicacion@catalanaoccidente.com