Press room
Plus Ultra Seguros consolidates its commitment towards handball by sponsoring the ASOBAL League for the fifth year in a row
9/16/19 | Plus Ultra Seguros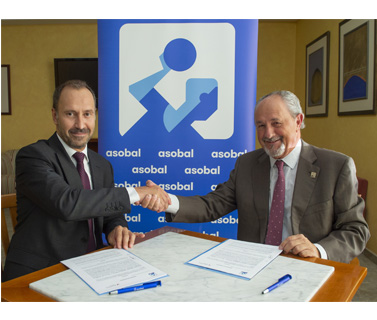 "The insurance company renews its collaboration agreement with handball's top division in Spain."
Plus Ultra Seguros and ASOBAL have reasserted their solid, joint collaboration by renewing the agreement whereby the insurance company will be the official sponsor of the ASOBAL League, as well as the ASOBAL Supercup, Cup and Mini Cup, for the fifth year in a row.

The signing of the agreement took place in the city of Cuenca during the 2019/2020 season's presentation gala and the ASOBAL Supercup's final, and it was attended by the president of ASOBAL, Adolfo Aragonés, and Plus Ultra Seguros' Catalonia and Aragon territorial manager, Miguel Cortegano.

As a result of this partnership, the company's logo will be visible on the association's website, as well as on all official ASOBAL and related competitions and events printed material. Plus Ultra Seguros will also carry out promotional activities in the pavilions where matches are played.

Cortegano said "it is an honour to be able to support the top division of men's handball in Spain, and we expect the 2019/20 season, which we are about to begin, to be as intense and exciting as the previous ones".

On the other hand, Aragonés thanked Plus Ultra Seguros' confidence, "this support is increasingly evident every year, and it is proof of the company's involvement in sport, especially in handball".

Five years promoting handball

The collaboration between Plus Ultra Seguros and ASOBAL dates back to 2015, when the insurance company sponsored the championship for the first time, in the 2015/2016 season. Since then, the company has continued to commit itself towards this sport and the values that it represents, such as teamwork, perseverance and the spirit of improvement.
Contact for press and media
comunicacion@catalanaoccidente.com