Press room
Plus Ultra Seguros contemplates 2019 as the year for commercial activity growth and consolidation
1/29/19 | Plus Ultra Seguros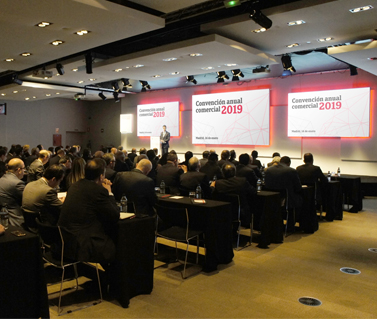 "Around one hundred employees and executives attended the insurance company's annual commercial Convention, where the goals for this year were presented."
Plus Ultra Seguros celebrated their annual commercial Convention in the town of Pozuelo de Alarcón (Madrid), bringing together more than one hundred executives and employees from the insurance company's commercial department to present and explain the strategy that will be developed in 2019.
The managing director of Plus Ultra Seguros, David Capdevila, was in charge of starting the meeting with a general overview of the company's activity during the previous year. Capdevila also took advantage of his speech to highlight some of the company's most significant challenges, such as growing in the different distribution channels; increasing operational effectiveness and improving customer orientation.
At the same time, he emphasised that to promote the growth of Plus Ultra Seguros, it is essential to increase 'our capacity to attract and relate to our mediators given that, in the end, this translates into better results in all areas'. In this sense, the company closed around twenty collaboration agreements in 2018 with different insurance mediator associations within the sector.
Distribution network boost
Furthermore, the commercial assistant general director of Plus Ultra Seguros, Luis Vallejo, drew the general outline for this year, whose focus is to develop the distribution network; improving the portfolio balance, increasing invoicing or consolidating mediation progress were some of the goals that the director mentioned in his speech.
The finishing touches were added by the managing director of Grupo Catalana Occidente, Ignacio Álvarez, who summarised the insurance group's progress in 2018.
Contact for press and media
comunicacion@catalanaoccidente.com