Press room
Plus Ultra Seguros extends its commitment with the association of insurance mediators AGACOSE
2/3/20 | Plus Ultra Seguros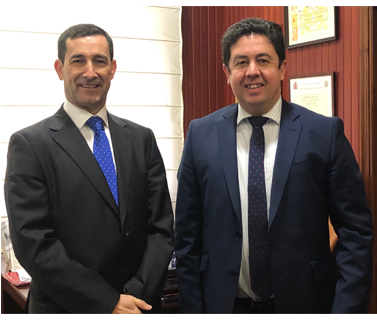 "Both companies extend their collaboration until 2021 with the aim of carrying out activities that promote the commercial development of mediators in Galicia."
Plus Ultra Seguros has renewed its collaboration agreement with the Galician association of insurance mediators AGACOSE until 2021, with the aim of promoting the commercial development of the association's insurance mediators. The agreement's renewal will also help optimise the commercial strategies and enhance the business processes between both companies, which will boost the region's insurance sector.
The signing of the renewal agreement took place at the facilities of the Galician association, and it was attended by the Director of the north region mediators of Plus Ultra Seguros, Juan Carlos Delgado, and the President of AGACOSE, Pablo Lariño.
Delgado highlighted that the renewal agreement with AGACOSE reasserts, "Plus Ultra Seguros' firm commitment towards the association's network of mediators," and "will boost the association's business development by providing its partners with the best insurance solutions."
Furthermore, Lariño underlined the importance of the agreement reached between both two companies, as thanks to Plus Ultra Seguros' support, "our mediators will be able to offer their customers high-quality products and a service tailored to their needs."
Contact for press and media
comunicacion@catalanaoccidente.com