Press room
Plus Ultra Seguros facilitates the work of its agents with the delivery of MINI vehicles in cooperation with Alphabet and MINI España
7/30/19 | Plus Ultra Seguros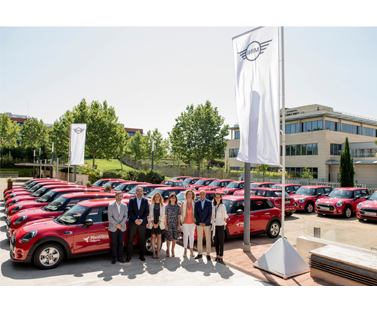 "Thanks to a cooperation agreement reached with the companies Alphabet and MINI España, the insurance company has confirmed its commitment to offer its agent network the best tools for them to carry out their day-to-day."
Plus Ultra Seguros has handed over new MINI vehicles to its network of agents thanks to the cooperation agreement signed between the insurer, Alphabet and MINI España. With the delivery of the new vehicles, Plus Ultra Seguros confirms its commitment to offer its agents the best tools with which to carry out their work and, at the same time, improve the mobility of its network.
The vehicles were handed over at the Alphabet offices in the town of Las Rozas (Madrid province) in the presence of the Deputy Sales Director of Plus Ultra Seguros, Luis Vallejo; the Director of the Agent Network, Institutions and Marketing of Plus Ultra Seguros, Pablo Sampedro; the Sales and Marketing Director of Alphabet España, Alicia Gálvez; and the Head of Sales & Strategy of MINI España, Eduardo Cortezón.
The Deputy General Sales Director of Plus Ultra Seguros highlighted that, with the handing over of these vehicles, the insurance company is ratifying its commitment to its commercial network and agents, "a very important group for the growth and development of the company's business model". Vallejo also emphasised that with these new vehicles, "the insurance company is providing its agents with a high-performance vehicle that will contribute to improving their mobility".
Gálvez pointed out that "the agreement reached with Plus Ultra Seguros shows the commitment of both companies to offer the insurance company's agent network a high quality service in such iconic vehicles as the MINI, in which the incorporation of the latest cutting-edge technology and applications to this fleet are a bonus that allows us to develop our business based on greater efficiency and improved attention to the needs of our customers, with quality management and immediacy".
Cortezón stressed that "the delivery of the MINI vehicles to the Plus Ultra Seguros agent network demonstrates the insurance company's firm commitment to offer an iconic vehicle within the automotive industry that perfectly combines innovation with high performance".
Contact for press and media
comunicacion@catalanaoccidente.com