12/13/18 | Plus Ultra Seguros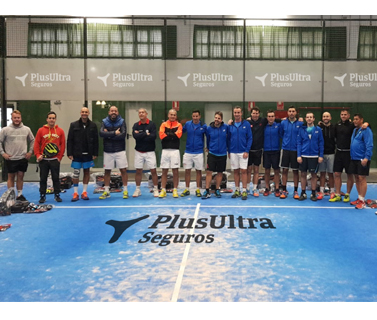 "The insurance company has also organised its traditional brokers' golf tournament, with 80 competing agents and sales staff."
Plus Ultra Seguros held the fifth edition of its paddle tennis tournament for brokers with great success. A total of 340 brokers took part in the competition throughout the year, the aim of which was to strengthen the commitment and closeness of Plus Ultra Seguros with these professionals.
The tournament was held over seven stages in different cities (Valencia, Barcelona, A Coruña, Madrid, Bilbao, Malaga and Seville) and on 12 December last, the grand final of the tournament was held in Madrid.
The General Sales Manager of Plus Ultra Seguros, Luis Vallejo, thanked the attendees for the great reception the tournament has had among the brokers, who are a "key" part of the company's business model. "At Plus Ultra Seguros we pride ourselves on being a familiar company, cultivating a closeness that is one of our key values and is greatly appreciated by our brokers' network. One of the main aims of the tournament is to enhance the relationship of trust and familiarity we have with our brokers, as well as promoting commitment and teamwork", he stated.
During the different stages of the tournament, the brokers also had the opportunity to learn tips and tricks from professional paddle tennis doubles team Matías Díaz and Alejandro Galán, currently 5th on the World Padel Tour ranking, sponsored by Plus Ultra Seguros.
Brokers' Golf Tournament
In addition to the paddle tennis tournament, with the aim of promoting sports practice, in 2018 Plus Ultra Seguros also organised its annual brokers' golf tournament. Over 80 agents and sales staff took part in the event at the Lomas - Bosque de Madrid Golf Club.
Contact for press and media
comunicacion@catalanaoccidente.com