Press room
Plus Ultra Seguros holds the highly successful sixth edition of its padel tournament for brokers
11/25/19 | Plus Ultra Seguros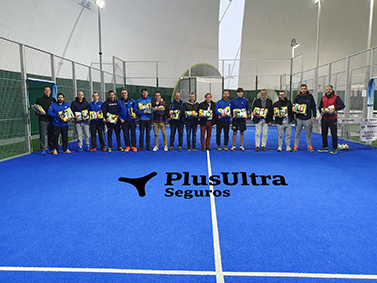 "The Company organizes various sports events during the year aimed at its network of brokers with a view to strengthening ties and reinforcing the relationship of trust with these professionals."
A record number of players have taken part in the sixth edition of the Plus Ultra Seguros padel tournament, aimed at its network of brokers. Via this initiative, the company continues to support the figure of the broker as the cornerstone of the sales distribution model, thus pursuing the objective set at the beginning of the year, when the company's business seminars highlighted the importance of this group.
During the year a total of 350 of the Company's brokers took part in this competition, which has taken place in 7 events in different cities: Barcelona, Bilbao, A Coruña, Valencia, Málaga, Madrid and Seville. The sixth edition concluded with the grand final, held in Madrid, which was attended once again by Mati Díaz and Franco Stupaczuk. Sponsored by the Company, the pair are currently fifth in the World Padel Tour ranking.
As Luis Vallejo, Deputy Commercial Director of Plus Ultra Seguros, commented, "Sport is an excellent tool for strengthening ties and reinforcing the relationship of trust with our network of brokers, whose work is essential in the company's value chain."
Golf tournament
As well as padel, Plus Ultra Seguros is also confirming its commitment to its sales network by organizing an annual golf tournament, the 2019 edition being held in the Real Club de Golf La Herrería in Madrid.
With 60 brokers and employees from the sales division, the tournament has become a key date in the Company's calendar, a light-hearted event where sport and competition are the main ingredients and whose fundamental aim is to promote commitment and teamwork.
Contact for press and media
comunicacion@catalanaoccidente.com