1/21/19 | Plus Ultra Seguros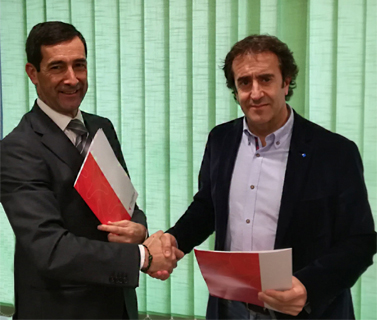 "The agreement aims to reinforce the image of the insurance broker and develop further the lines of business of both entities."
Plus Ultra Seguros has renewed its collaboration agreement with the Ágora Broker insurance agent with the aim of optimising business strategies, reinforcing the lines of business of both entities and promoting the figure of the insurance broker. The agreement will be in force until the end of 2020.
The director of the Northern region of Plus Ultra Seguros, Juan Carlos Delgado, and the CEO of Ágora Broker, Vicente Pino, were present at the signing of the agreement. The act was held at the offices of the insurance agent, Néstor Díaz Tresgallo, in Torrelavega (Cantabria), who has recently become an associate at Ágora Broker.
According to Delgado, the renewal of this agreement is important for the insurance company, as Ágora Broker is a "strategic partner for Plus Ultra Seguros, thanks to its expertise in the market. Furthermore, our aim is to continue to foster the growth and expansion of Ágora Broker".
Vicente Pino pointed out that the agreement permitted the company "to increase the quality of its products and services, enabling its brokers to provide customised and comprehensive advice, tailored to the needs of each client".
Contact for press and media
comunicacion@catalanaoccidente.com