Press room
Plus Ultra Seguros signs a collaboration agreement with the Murcia Association of Insurance Brokers
11/5/18 | Plus Ultra Seguros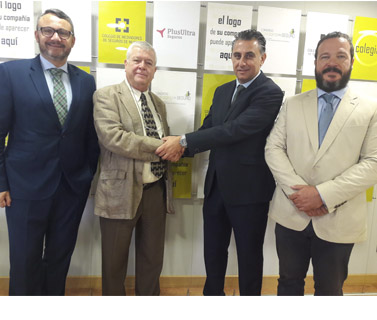 "The insurance company and the regional institution will work together to strengthen their collaboration in order to carry out actions that contribute to improving the business activity of insurance brokers in the region."
Plus Ultra Seguros and the Murcia Association of Insurance Brokers (in Spanish, the Colegio de Mediadores de Seguros de Murcia) have signed a collaboration agreement aimed at promoting the role of insurance brokers and carrying out actions that highlight the importance of this professional as the most suitable channel for the distribution and marketing of insurance products.
In addition, the agreement will promote the participation of Plus Ultra Seguros in the events that the Murcia Association of Insurance Brokers organises in order to support this group, which reaffirms the high esteem in which the company holds the insurance broker profession.
The signing of the agreement took place on the association's premises and it was attended by its chairman, Juan Jesús Bañón, and its treasurer, Andrés Pérez. Representing Plus Ultra Seguros was the regional director of Eastern Andalusia and Murcia, Alberto Bartolomé, and the director of the Murcia branch, Alfonso Gómez. During the proceeding, both organisations highlighted the importance of the insurance broker's role as a key player who provides a professional and personal service to customers.
Following on from this, Bartolomé emphasised that these types of agreements show "clearly the company's strong support for insurance brokerage" and its "commitment to the development of brokers, an essential support for the company's business model". Furthermore, Bañón stressed the importance of the agreement as a key factor in facilitating brokers' business activity by improving their professional development.
Contact for press and media
comunicacion@catalanaoccidente.com