Press room
Plus Ultra Seguros sponsors the padel tennis doubles players Matías Díaz and Alejandro Galán
4/9/18 | Plus Ultra Seguros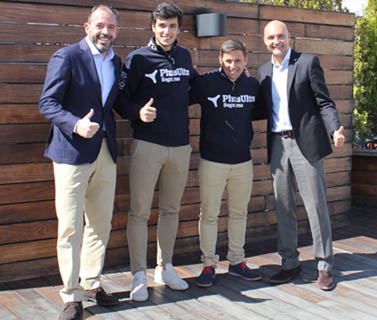 "This reflects the insurance company's desire to promote healthy living and encourage the practice of a sport which is based on commitment and team work."
Plus Ultra Seguros has reached an agreement to become the official sponsors of the padel tennis doubles players Matías Díaz and Alejandro Galán, who currently hold 5th place in the World Padel Tour ranking.
Thanks to this agreement, the Plus Ultra Seguros brand logo will be clearly visible on the players' equipment. The doubles partners, who are aiming for the first place in the doubles ranking, will be sponsored by the insurance company for the whole season.
The agreement was signed at the company's headquarters in Madrid, in the presence of Luis Vallejo, the general sales manager of Plus Ultra Seguros, Pablo Sampedro, the marketing director and the two sportsmen. "Plus Ultra Seguros has always sponsored sports activities and the company now wants to strengthen this commitment by supporting padel tennis", Vallejo stated.
Both Díaz and Galán thanked Plus Ultra Seguros for their sponsorship of padel tennis. Galán also acknowledged that the agreement represents "a great opportunity to continue fighting to reach the top places in the competition".
Contact for press and media
comunicacion@catalanaoccidente.com