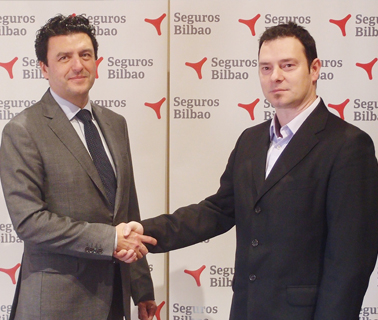 "The company shows its support to the women's sport by also sponsoring the HM the Queen's XL Cup which will take place in Barakaldo from 26 to 28 April."
Seguros Bilbao has agreed to become the sponsor of the Zuazo Women's Handball Club for the remainder of the 2018-2019 season. This agreement means that the insurance company's logo will be visible in the stadium where the club plays its local matches and on the club's website.

It was signed at the company's head offices in Neguri-Getxo (Vizcaya) and was attended by the Marketing Director of Seguros Bilbao, Iñigo Garay, and the president of the Zuazo Women's Handball Club, Aingeru Astorkiza. Garay stated that this sponsorship is "another example of Seguros Bilbao's desire to promote the sport" and also emphasised that the insurance company shares the values that the club embodies, "such as respect, team spirit, tolerance and responsibility".

While the Club's president, Aingeru Astorkiza, was very pleased after the agreement was signed: "this agreement with Seguros Bilbao will push us to achieve our goals in the remainder of the season. The arrival of such an important sponsor undoubtedly adds value and confirms the growth that the club is experiencing across its entire structure and that offers guarantees for the future".

Supporting the HM the Queen's XL Handball Cup

As well as sponsoring the Zuazo Handball Club, Seguros Bilbao will also support the HM the Queen's XL Women's Handball Cup, one of the sport's most important titles in Spain. The competition celebrates its 40th edition in 2019, which will take place from 26 to 28 April in the Lasesarre sports centre in Barakaldo.
Contact for press and media
comunicacion@catalanaoccidente.com