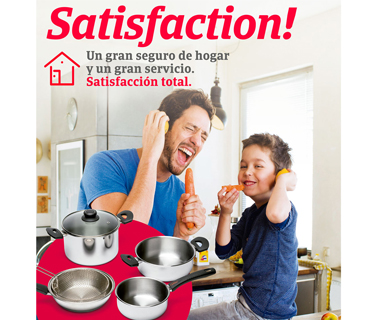 "The insurance company renews its insurance product aimed at protecting families and their homes by now offering a more comprehensive product."
Seguros Bilbao has improved its home insurance by including additional benefits that enhance its offering, with the aim of meeting the insured persons' needs. Among the new guarantees particularly stand out the repair of water damage produced by the faulty sealing of sanitary systems and the cover of cosmetic damage made to wall furniture. It also includes maintenance for boilers with an annual free service.
In addition, there are new developments in Civil Liability for owners of non-dangerous dogs, and the protection is extended for the theft of jewellery, whether placed inside a safe or not, by increasing the sums insured.
Seguros Bilbao's home insurance has also been improved in terms of the Comprehensive Protection for the Landlord (Protección Integral del Arrendador, PIA); by including new guarantees for property owners' associations; and by providing a personalised advisory service to fill out the Technical Building Inspection (Inspección Técnica de Edificios, ITE).
All this coverage is added to the existing services provided by the company's home insurance, such as the 24-h helpline, the financial compensation due to cancelling a trip or the Bricohogar handyman service.
Additional promotions
Seguros Bilbao wants to reward customer loyalty, and, therefore, is offering a 15% discount on home insurance for those whose property owners' association is insured with the company. In addition, those who take out Seguro Bilbao's home insurance before 31 May will receive a gift according to the premium amount.
Contact for press and media
comunicacion@catalanaoccidente.com