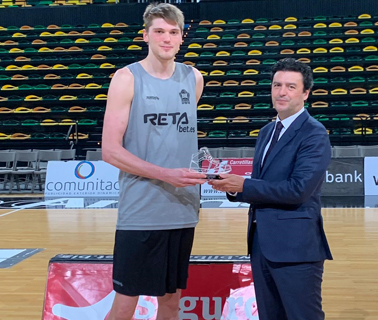 "This prize awarded by the insurance company grants the North American player the title of MVP of the Biscay team for the regular season."
Seguros Bilbao has presented Bilbao Basket's young centre, Ben Lammers, with the Safest Player Award of the regular season. This coincides with his debut in the LEB Oro category, in which he has shown all his potential. This acknowledgement by the insurance company is clear proof of that.
The company presented him with this award at the club's premises. During the event, Seguros Bilbao's Marketing director, Iñigo Garay, highlighted that "it's an honour to present this award to Ben Lammers, a player that, despite his youth, perfectly embodies Bilbao Basket's and Seguros Bilbao's values, which can be summarised in dedication, sacrifice, perseverance and success.
"Ben Lammers, Bilbao Basket's centre, stated, "it's a real privilege to receive this award, although it's not entirely my merit, but all the team's. Without their effort, dedication and sacrifice in all games, I wouldn't be here receiving this award."
In December Seguros Bilbao renewed its sponsorship with Bilbao Basket for the sixth consecutive season. The collaboration between both institutions dates back to the 2012 season, when the insurance company became one of the club's main sponsors for the first time.
Summer camp
In addition, as a demonstration of the insurance company's commitment to the basketball team and to fostering sport among the littlest ones, it will also sponsor this year a new edition of the Bilbao Basket Seguros Bilbao Summer Camp.
The Camp is aimed at children between 6 and 18 years of age and will be held from 24 June to 19 July at the Bilbao Arena pavilion in four different week-long shifts. It will be delivered by qualified professionals and will enjoy the participation of Bilbao Basket's coaches.
Contact for press and media
comunicacion@catalanaoccidente.com