8/2/18 | Seguros Catalana Occidente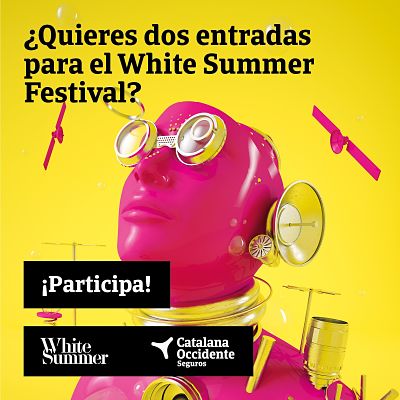 "The company joins the celebration of one of the greatest cultural events on the Costa Brava, offering attendees free Wi-Fi so that they are connected at all times and can share their experiences at the festival."
Seguros Catalana Occidente will sponsor the seventh edition of the festival White Summer, a large event that brings together the latest trends in performing arts, music, design and gastronomy, and that will take place from 4 to 26 August in Mas Gelabert, Serres de Pals (Girona). In this way, the company underlines its commitment to the promotion and the spreading of culture.
As part of the sponsorship, Seguros Catalana Occidente will offer free Wi-Fi connection so that everyone attending White Summer can share their experiences throughout the entire festival. In addition, each week the company will draw tickets via the Facebook page of Seguros Catalana Occidente to attend White Summer.
White Summer
During August, as the sun sets, the White Summer festival is the meeting place among people, beauty, creation and expression in an exceptional setting: Masía Mas Gelabert. The seventh edition of the iconic multi-format festival returns to enliven the summer of the Costa Brava with more than 200 activities over 23 days.
An incomparable atmosphere, with activities for all ages, a carefully chosen selection of the best music and a multitude of shows, creative events, food trucks and gourmet offerings to suit all tastes.
Contact for press and media
comunicacion@catalanaoccidente.com