Press room
Seguros Catalana Occidente renews its sponsorship of the Sant Silvestre Barcelonesa-Sant Cugat race in its 19th edition
12/5/17 | Seguros Catalana Occidente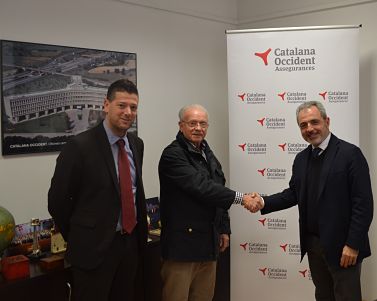 "Seguros Catalana Occidente once again reaffirms its commitment to sport by sponsoring the Sant Silvestre Barcelonesa-Sant Cugat race in its 19th edition. The race will take place on 31st December in the streets of Sant Cugat del Vallès (Barcelona), traditionally marking the end of the year."
On Monday, 27th November, the director of the Sant Cugat branch of Seguros Catalana Occidente, Juan Algar, and one of the area's leading brokers, Joan Matarín, signed the collaboration agreement with the technical director of the Sant Silvestre race, Domingo López, in the insurance company's office in Calle Balmes in Sant Cugat.
This sponsorship reinforces the commitment of Seguros Catalana Occidente to sport and the company's promotion of a healthy lifestyle. This initiative also highlights the Sant Silvestre race as one of the most emblematic sports events in Spain and acknowledges the interest and enthusiasm of the inhabitants of Sant Cugat del Vallès for organising and hosting such events.
Contact for press and media
comunicacion@catalanaoccidente.com