Press room
Seguros Catalana Occidente shows its support for sustainable mobility and renewable energies at Expoelectric
10/28/19 | Seguros Catalana Occidente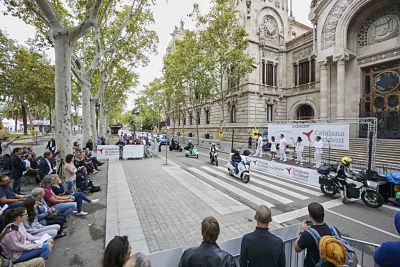 "The Company reaffirms its commitment to the environment and sustainable urban mobility."
Seguros Catalana Occidente will once again sponsor Expoelectric, the 9th edition of this benchmark event for electric vehicles and renewable energies in southern Europe. The Company has supported and participated in this fair since its birth in 2011, thus demonstrating its commitment to sustainability and the environment, while reaffirming its support for electric and hybrid cars.
Visitors to the Seguros Catalana Occident stand will be able to obtain information on the new features incorporated in the Company's insurance policy for electric cars. They include improvements in roadside assistance, such as using electric towing vehicles, and usability, such as locating charging points for these vehicles. Cover for the charging cable and the owner's private charging station has also been included recently.
In addition to having a stand at the fair where a Scalextric circuit will be installed for young visitors, the Company is also sponsoring an e-Concert, under the slogan "Change energy, not climate", a live music show that will take place while electric vehicles drive round between the stage and the auditorium. This is an innovative demonstration, unique in Europe, that allows the audience to gain first-hand experience of the improvement a 100% electric city can make to the environment.
"At Seguros Catalana Occidente we are aware of the importance of respecting the environment, which is why we were one of the pioneers in launching insurance for electric vehicles in 2010," Rafael Moyano, the Company's Head of Automobile Insurance, recalls.
Expoelectric, which will be held in Barcelona on 2 and 3 November, is an opportunity to bring zero-emissions vehicles and renewable energies closer to the public. The event will combine recreational activities, talks and discussions with a testing area for electric and hybrid vehicles where the latest models can be driven on an open traffic route around the fair precinct.
Contact for press and media
comunicacion@catalanaoccidente.com