9/13/18 | Seguros Catalana Occidente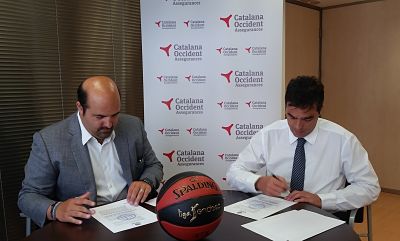 "The insurance company has renewed its sponsorship of the BC MoraBanc Andorra basketball team, which will be competing in the Liga Endesa (ABC) and the Eurocup."
Seguros Catalana Occidente is the official sponsor of BC MoraBanc Andorra for the third year running as part of its strive to promote playing sports and a healthy lifestyle. Under the agreement, the Seguros Catalana Occidente logo will appear on the players' shirts and in the main pavilion where the matches take place.
Similarly, the company will also have a presence in the Andorran teams's Instagram and Twitter accounts @morabancandorra with the campaign "La asistencia segura" (in English 'Assistance assured'), a video showing the highlights of each game.
The signing of the sponsorship agreement took place at the company's Andorra branch, in an act attended by BC MoraBanc Andorra's president, Gorka Aixàs, and the director of Seguros Catalana Occidente Andorra, Eduard Fillet.
Eduard Fillet, director of the Andorra branch of Seguros Catalana Occidente, declared that the renewal of this agreement reflects "the company's firm commitment to basketball and its values". Furthermore, the president of BC MoraBanc Andorra, Gorka Aixàs expressed gratitude for the support given by the insurer, stating that it was a real pleasure to count on the support of a company committed to basketball for the third consecutive year.
In the last three years, the Andorran club has seen its best results by arriving at the final stage of the Copa de el Rey (King's Cup) (2016-2017); finishing the Liga Endesa in 6th position (2017-2018) and being classified for the Eurocup two years running (2017-2018 and 2018-2019). In addition, BC MoraBanc Andorra has recently become champion of the Catalan League for the first time in its history.
Contact for press and media
comunicacion@catalanaoccidente.com