Press room
Seguros Catalana Occidente sponsors the 13th edition of the traditional El Pont de Vilomara and Rocafort race
10/29/18 | Seguros Catalana Occidente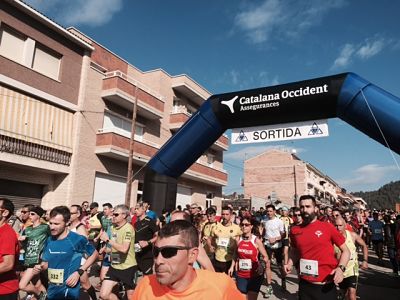 "The company reasserts its commitment to the sport and, for the fourth consecutive year, sponsors one of the most traditional popular races in Catalonia."
Fourth consecutive year, Seguros Catalana Occidente sponsors the Pont of Vilomara and Rocafort race, one of the most relevant popular competitions in Catalonia, which will be held on the 4th of November. The company thus confirms its support for playing sports and promoting a healthy lifestyle.
Throughout its 10 km, the race combines different types of surfaces (asphalt, dirt and grass), with inclines and slopes, a unique factor that makes it one of the hardest but also most anticipated competitions of the year. It also includes tests for the smallest members of the family. In fact, before the start of the senior race, two more will be held, one for children from 5 to 10, and another for children from 10 to 18 years of age.
Besides its great popularity due to the route and itinerary of the race, the test supports a charity, since one euro from each enrolment is set aside for the Asociación de Amigos de la Unesco de Manresa, a non-profit organisation that will dedicate this money to a solidarity project in Yemessoa (Cameroon). Enrolments can be made through the website www.cursaelpont.cat.
Contact for press and media
comunicacion@catalanaoccidente.com