Press room
Seguros Catalana Occidente takes part in Expoelectric 2018 and confirms its commitment to sustainability and electric vehicles
10/2/18 | Seguros Catalana Occidente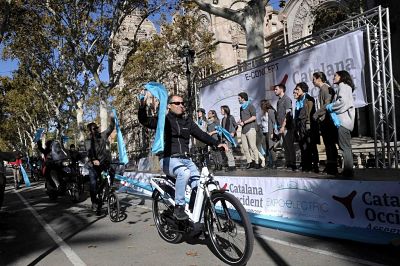 "The company thereby reinforces its commitment to this type of vehicle as an alternative for mobility and energy efficiency in large cities."
Seguros Catalana Occidente will be taking part in the 8th edition of Expoelectric, which is one of the most important electric vehicle events in Europe and will be held on 7 and 8 October in Barcelona. It is the perfect occasion for the insurance company to reassert its commitment towards the electric vehicle as a sustainable mode of transport, which is growing in users, and its support of zero-emission mobility in cities.
The company will set up a stand at this trade fair from which it will inform about its Hybrid and electric vehicle insurance.This insurance is a specific product for this type of vehicle, and it has recently incorporated new features and improvements in terms of road assistance, such as employing electric towing vehicles, and its usability, such as locating charging points for these vehicles. Those who visit the Seguros Catalana Occidente stand will take part in a prize draw of a JDBug electric scooter.
During the two days of Expoelectric, visitors will be able to participate in the talks and conferences about sustainability, energy efficiency and the future of mobility in cities, as well as try out all types of electric vehicles on the trade fair's covered special test circuit for electric motorcycles and bicycles and its open-air track for testing cars in traffic.
Contact for press and media
comunicacion@catalanaoccidente.com