Press room
Wilson and Fundación Jesús Serra come together to promote children's tennis with the Xpress Tennis Cup
4/18/18 | Fundación Jesús Serra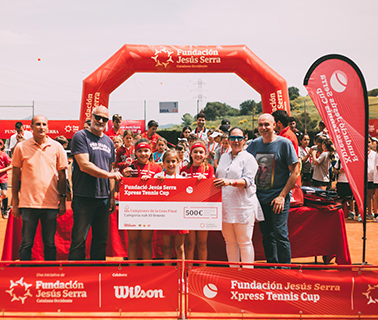 "The Xpress Tennis Cup is returning after its initial success. Last year, more than 800 players from 32 tennis clubs in Catalonia participated in the competition."
The sports equipment company Wilson and Fundación Jesús Serra of Grupo Catalana Occidente have come together to promote the Xpress Tennis Cup, a new sports project aimed at promoting tennis among some of the youngest players.

The championship is aimed at boys and girls between the ages of 5 and 12 who are currently part of a tennis club. The competition will be in an innovative format: organized by teams representing their club; in matches lasting 20 minutes.

The 2nd Xpress Tennis Cup will be held in different qualifying phases of the sub-10 and sub-12 categories and the provincial minitennis phase. Specifically, the provincial phases will begin next April 21st at the Club Natació Lleida; on April 28th at the Tarragona Tennis Club; on May 5th at Club Tennis Llafranc (Girona) and on May 19th at the Crecle Sabadellès 1856 (Barcelona). The grand final will take place on May 20th, also at the Cercle Sabadellès (Barcelona).

In addition, around the tournament, activities will be carried out with the aim of promoting the values of sport, teamwork and solidarity among the young. Participants can also enjoy the wheelchair tennis exhibition by the best players in the country.

Not forgetting the sports village with marquees hosting participants, activities for all ages, rest areas, photo calls, interviews with children, live DJs and a speaker.

The general director of Fundación Jesús Serra, Laura Halpern, thanked the Wilson company, which specializes in accessories and sports equipment, for its support of this initiative. She recalled that "the Xpress Tennis Cup aims to promote the world of sports among the youngest players."

Victor Saladich, Area Sales Manager of Wilson, responded that "Wilson are delighted to collaborate with Fundación Jesús Serra in this unique initiative. We believe that it is very important that interest in tennis begin to take shape when boys and girls are young, through participation in competitions like this one. In this manner, it is very likely that they will end up being passionate about the sport and that, once they reach adulthood, they will continue playing."
Contact for press and media
comunicacion@catalanaoccidente.com